You can obtain an extract of the Register – Credit report through the CRIF Client Centre. There are several ways to request a statement. The issuance of the Credit report is preceded by verification of the applicant's identity. The easiest way is to purchase the Credit report online via the kolikmam.cz e-shop. To do this, it is necessary to have an activated bank identity. More information on how to apply for the Credit report can be found here.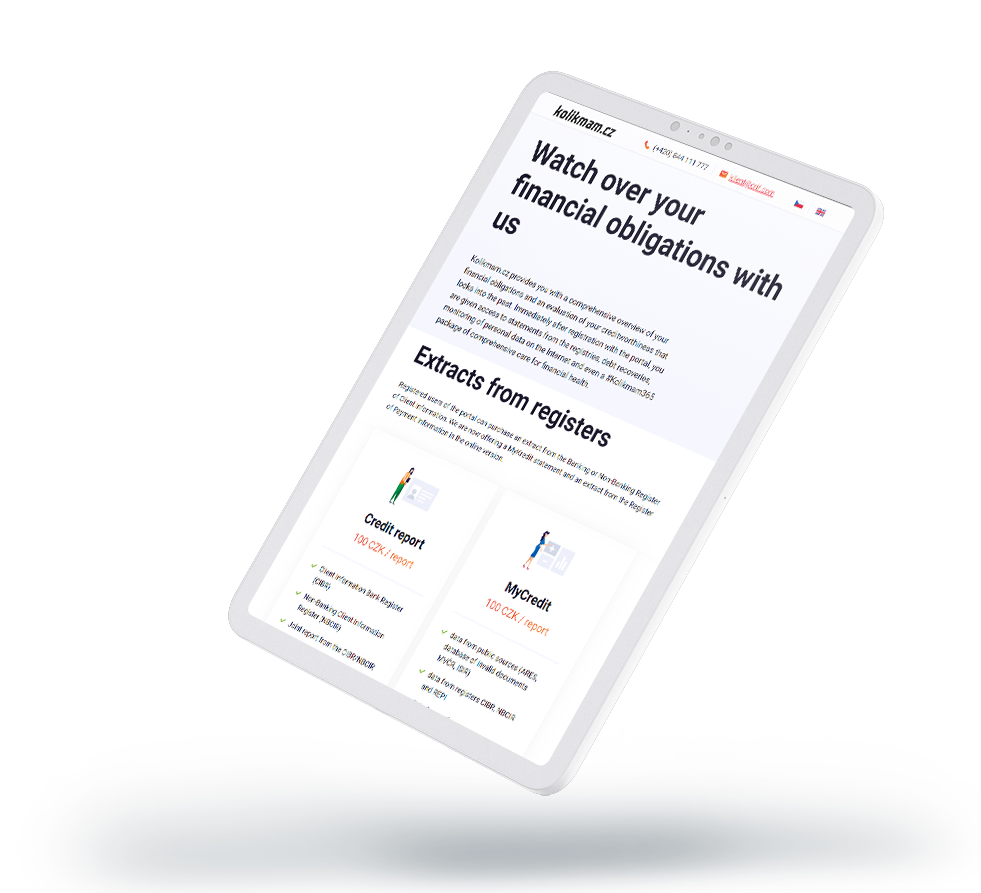 You can purchase your Credit report easily from home via the e-shop at eshop.kolikmam.cz. We will verify your identity via BankID. You must be an account holder and have activated your bank identity to request a Credit report online.
The CRIF also operates the kolikmam.cz web portal, where you can access online the data held about you in the CBCB and CNCB registers.
Ten principles
for responsible borrowing
1
I don't borrow for unnecessary things
I always have to think about whether I really need the product or service I want to buy with a loan right now. The simple rule is that I may want something with my own money, but I must need it with the money I borrow.
2
I don't overpay for life
I don't buy any product/service on credit that I will be paying off beyond its useful life. If I buy a week's holiday, I shouldn't have to pay it off for a whole year.
3
I don't risk bankruptcy
It is essential to build up reserves for "rainy days" and to think that it could always be worse. If I'm considering a loan, I first need to calculate how much I can spend per month on repayments given my financial situation.
4
I don't trust everyone
I need to think carefully about which company I can borrow from. Nowadays, almost anyone can offer and provide loans. Companies that do not check their applicants' credit records compensate for the risk by the amount of interest they charge and other penalties.
5
I'm not rash
I always choose the most advantageous loan from those offered. I always have to compare offers from different providers. I certainly do not choose the first option that is presented to me.
6
I don't compare only the interest
When I take out a loan, I do not choose the lowest interest offer, I have to consider all other fees such as loan administration fees, closing fees or any penalties. It is important to compare APR rates and the total amount I will pay.
7
I don't sign unknown
I always read the contract and loan terms in detail, including any penalties or fines. I do not sign anything I do not understand. If necessary, I will seek professional advice.
8
I don't just think about the present
I always repay my debts properly and on time, thereby building a positive credit history for the future. If necessary, I will insure myself against future default.
9
I don't borrowing for a loan
If, despite all precautions, a situation arises where I am unable to repay a loan, I do not borrow additional money to settle the debt. I try to arrange a solution directly with the lender who made the original loan.
10
I don't believe in miracles
If a "reputable" financial institution rejects my loan application, I need to rethink my own economic situation. By doing so, the financial institution is not only protecting itself, but also protecting me from over-indebtedness. It is not a good idea to immediately apply for a more expensive loan elsewhere, as the conditions are then guaranteed to be less favourable.